Drains can get clogged with different things after a while. Then they move slowly, which can be frustrating. Most times, you plunge, and still, the flow is not restored. Often the next step is to call a plumber, which is more costly and time-consuming. However, you can resolve these blockage issues by using one of the best drain cleaners around. To ease your search, we have compiled this article detailing the top ten drain cleaners you can use to restore flow to your drains.
What Is A Drain Cleaner?
Drain cleaners are solutions for cleaning and clearing blockages in drains. Although drain cleaners have the same constituents (either chemicals or enzymes) they have different effects and modes of action. Some are effective as shower drain cleaners while some are more suitable for industrial areas. Due to this fact, you must select the best drain cleaner that suits your need.
---
Need help? Speak to an expert now:
---
Top Ten Drain Cleaners To Consider
1. Pure Lye Drain Opener

Pure Lye Drain Opener is one of the best drain unblockers that are neither acidic nor odourless. This drain cleaner is a biodegradable natural drain cleaner that is safe on both users and pipelines. It is useful for industrial drains and effective against septic tanks, slow-moving and clogged pipes. The concentrate does not stink. Therefore, it is suitable for residential areas, schools and commercial buildings.
Pros of Pure Lye
i. Friendly and safe to use.
ii. Odourless and can be used for all drain types.
Cons
i. Could cause skin irritation if not used as directed.
2. Thrift T-600 Alkaline Drain Cleaner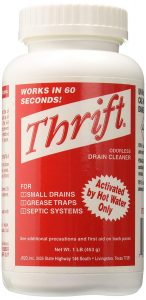 The Thrift T-600's solution will melt anything in its path, including hair, grease or oil in less than a minute. Thrift T-600 contains a non-acidic component which is sodium hydroxide. They have unique effects on fats and oils. Therefore, it can be used as a shower drain cleaner or in the kitchen. The sodium hydroxide contained in the cleaner would not destroy the pipeline construction. As a result, consider Thrift T-600 an effective natural drain cleaner that is not toxic to your pipelines.
Pros of the Thrift T-600
i. A fast drain cleaner effective in less than a minute.
ii. It has a pleasant odour.
iii. It does not destroy pipelines.
Cons
i. It is not suitable for places with stagnant water such as toilet bowls.
Using The Thrift T-600
When using the Thrift T-600, ensure that you protect your eyes and hands. The following steps would ensure you use the drain cleaner correctly. Also, ensure you read the label before use and follow the instructions.
Thrift T-600 crystals get activated by hot water, so boil enough water and slowly pour down the drain.
Then introduce a cup of Thrift T-600 down the drain.
Finally, allow the drain cleaner solution and hot water to act on the clog for 60 seconds.
Repeat the process if necessary.
3. Drano Max Drain Gel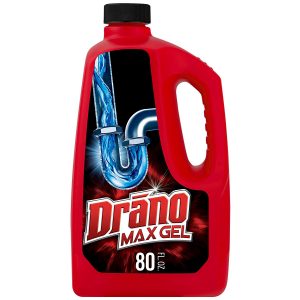 The Drano Max Gel is ideal for all drain types and pipes. Also, it is suitable as an industrial drain cleaner as well as for residential use. Drano Max contains active cleaning ingredients including sodium silicate, sodium hydroxide, surfactant and blend. These components together will liquefy the clog in no time making the Drano Max a fast attack drain cleaner. In 15 minutes, the Drano Max Gel will dissolve all blockages.
Pros
i. User-friendly and safe.
ii. Safe for the pipelines.
iii. Effective against total blockages.
Cons
i. Not suitable for toilets.
Using The Drano Max Gel
Before applying the gel, remove light particles from the filter. Leave the gel on the drain for 15-30 minutes before flushing with hot water. You can use your plunger after this process to check if the pipe is moving or not.
4. Green Gobbler GGDIS2CH32 Drain Dissolve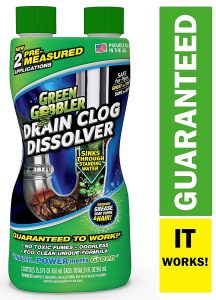 The Green Gobbler Dissolve is an enzymatic cleaner. It is highly effective against grease and hair clogs. Consequently, it is suitable for shower drains and kitchen drains. An added advantage of the Green Gobbler is its ability to sink to the bottom of standing water to liquefy clogs.
Pros of using the Green Gobbler
i. Can penetrate standing water.
ii. Non-toxic drain cleaner.
iii. Environment-friendly.
Cons
i. Not ideal for drains with total blockages.
Using The Green Gobbler
The Green Gobbler product comes with two different chambers. Most times, one is enough to get the job done. For maximum effect, pour a full one of the Green Gobbler chambers into the drain and leave it for two hours or more.
5. Green Pig Solutions 52 Septic and Drain Treatment
One of the best drain unblockers on the market is the Green Pig concentrate. The solution contains bacteria that degrade the organic matter or other components in the clog. Also, it is a fast attack drain cleaner and clears clogs in 15-30minutes. It is a drain cleaner acid suitable for toilets, septic tanks and drain fields. The Green Pig Solution is pre-packed into four packets for easy use.
Pros of the Green Pig Solution
i. It is user-friendly.
ii. A budget-friendly drain acid cleaner.
iii. The drain cleaner is not toxic and highly effective.
Cons
i. It is not bio-based.
6. Bio-Clean Drain Septic Bacteria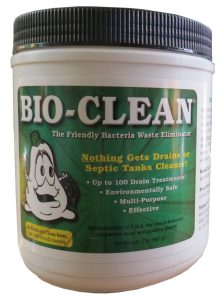 The Bio-clean Drain Septic Bacteria is a natural drain cleaner with enzymes and bacteria. Also, it does not contain acid. It is a highly effective shower drain unblocker, and you only need a little of the Bio-clean to unclog your drain. Asides showers, kitchen sinks and tubs, bio-clean is also suitable for use as an industrial drain cleaner. To see better results, you need to leave the solution for 6-8 hours.
Pros of the Bio-clean Drain
i. User and environment-friendly.
ii. It does not generate fumes or bad odours.
Cons
i. It requires more than one treatment.
ii. Not a fast attack drain cleaner.
7. Rid-X Septic Treatment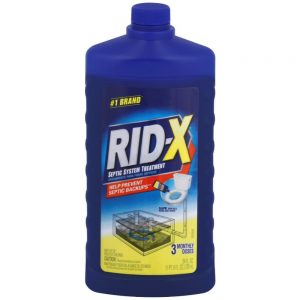 Rid -X is also one of the best drain cleaners in the UK. Like the Bio-clean drain, it contains enzymes that target clog materials. The proteins in the concentrate include lipase, amylase and cellulase. These enzymes are not harmful. As a result, they do not degrade pipelines and are ozone-friendly. The enzymes mainly digest food particles. Therefore, they are suitable for kitchen drains. Also, they can be useful for septic tanks.
Pros Of Using Rid-X
i. Relatively safe to use.
ii. Not harmful to the skin.
iii. Highly effective.
Cons
i. Effective against only partial blockages.
8. Xion Lab Drain Cleaner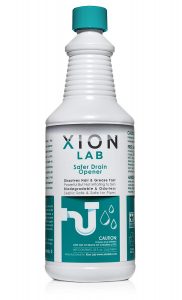 Xion Lab Drain Cleaner is a highly effective and fast action drain cleaner. This liquid drain cleaner clears oils, grease and hair particles. Due to this, it is one of the best shower drain unblockers. The drain acid is denser than water, so it penetrates deep into the clog. Additionally, it is made of biodegradable components and highly recommended as a residential and industrial drain cleaner.
Pros Of Xion Lab
i. User-friendly.
ii. It is fast-acting.
iii. Not toxic and non-inflammable.
iv. Very effective.
Cons
i. Could be ineffective on stubborn blockages.
9. Roebic K-97-Q-4 Mainline Cleaner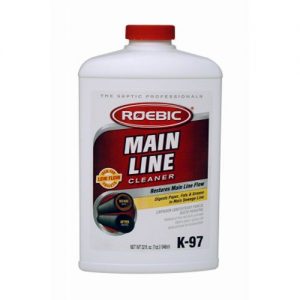 Roebic K-97 is a powerful drain cleaner acid used for stubborn blockages. It is highly effective against clogs in toilets, septic tanks and sewage systems. The Mainline cleaner would correct the slow flow in your drainage system. It digests fats and grease in the main lines.
Pros of Roebic K-97
i. User-friendly product.
ii. Effective for septic tanks.
Cons
i. Might have a long-acting time.
10. CLR PP4-5 Power Plumber Drain Opener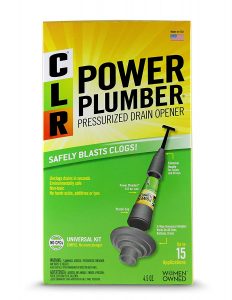 The CLR PP4-5 power plumber is also one of the cleaner acids with a fast-acting nature. The drainer opens a clog in less than a minute. Also, it is suitable for pipelines with long distances. Also, the power plumber can be used for up to 15 times before exhausting the can. The components in the power plumber are non-corrosive and non-abrasive. As a result, they are ideal for bathtubs, kitchen sinks, and even toilets.
Choosing A Drain Cleaner: Things To Consider
When selecting your drain cleaner, you should not just pick one randomly. You could choose from one of these ten best drain unblockers. However, you still have to keep certain things in mind:
Types Of Blockage: This is the reason for the clog. You could identify this by the location of the drain. Kitchen drains mostly get clogged by grease and oils while shower drainage is mostly by hair and dirt. Ensure to get the best drain cleaner suitable for the blockage.
Type Of Pipe: Chemicals easily destroy some pipes. Keep in mind that some drain acids damage pipelines. Select one based on the kind of pipes you have.
Cost Of Cleaners: Purchasing costly drain cleaner acids does not translate to increased effectiveness. Also, it doesn't mean the product is not efficient when cheap. Select a drain cleaner based on the blockages, pipelines and the cost you can afford.
Types Of Drain Cleaners: The kind of drain cleaner you would select should depend on the kind of clogs you have. They come in various forms – powders, gels, liquid. Mostly, the liquid and gel drain cleaners are more effective against partially blocked and thick clogs. In contrast, powder forms work for total blockages. Also, the powders are not as effective as a fast attack drain cleaner.
In Conclusion
Drain cleaners are the best solution to your clogging problems; they are highly effective when you choose the right ones, some of which have been listed above. However, safety precautions are essential when dealing with drain acids. Hence, read instructions to know the type of chemicals or enzymes in the drain cleaners.
---